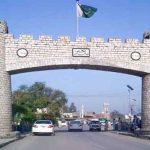 LONDON: Prime Minister Shahid Khaqan Abbasi, Pakistan Muslim League-Nawaz (PML-N) quaid Nawaz Sharif and former Finance Minister Ishaq Dar are meeting in London to discuss political situation, corruption cases and important party matters.
According to details, Nawaz Sharif and Ishaq Dar have arrived at Hussain Nawaz's office in London to meet the Prime Minister Khan Abbasi.
Prime Minister Abbasi is expected to brief Nawaz on the government's agenda till May 31. Both leaders are also expected to discuss the appointment of the caretaker prime minister.
Nawaz Sharif is in London to spend time with his ailing wife Kulsoom Nawaz. Meanwhile, PTI chief Imran Khan has departed for London where, according to media reports, he will spend time with his sons.