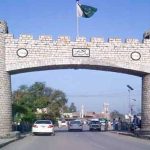 ISLAMABAD: Prime Minister Shahid Khaqan Abbasi – terming National Accountability Bureau (NAB) as a 'draconian' institution – said that anti-graft body was set up to disassemble political parties.
In an interview PM Abbasi said that Chief Minister of Punjab Shahbaz Sharif is his candidate for prime minister but he has no objections working under the leadership of Maryam Nawaz Sharif.
He went on to say that he does not think of "Dawn Leaks" as a major issue of the country.