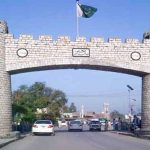 UNITED NATIONS: Prime Minister Shahid Khaqan Abbasi would highlight Pakistan's success against terrorism, it's efforts for world peace and regional connectivity as he arrives here Monday to meet world leaders and address the 72nd session of the UN General Assembly (UNGA).
Prime Minister Shahid Khaqan Abbasi who would lead Pakistan delegation in his debut address to the 193-member world body, would share his vision of a prosperous developed and progressive Pakistan and how it was coping with multifarious challenges.
The Prime Minister arrived here after an overnight stay at London, where he had a meeting with the former Prime Minister Muhammad Nawaz Sharif. He also enquired about the health of his spouse Begum Kulsoom Nawaz who is undergoing medical treatment in London.
The regular session of the UNGA that began on September 12 would open on September 19 for General Debate and focus on the theme, `Focusing on People: Striving for Peace and a Decent Life for All on a Sustainable Planet'.
Over one hundred world leaders are scheduled to participate in the debate that would take 174 items on its
agenda this year.
The Prime Minister is scheduled to address theUN General Assembly on Sept 21, Thursday in which he would also speak about Pakistan's crucial role in its efforts for peace, adverse impact of Climate change on Pakistan and the measures planned to counter the growing threat.
The UNGA 72 would give Pakistan an opportunity to engage multilaterally and bilaterally to advance its
priorities in diverse areas.
The plight of the civil population in the Indian Occupied Kashmir, the importance of peace in Afghanistan and the oppression against Rohingya Muslims in Myanmar are the issues that are likely to be taken up in Prime Minister's address, Dr Maleeha Lodhi Pakistan's Ambassador to the United Nations said.
The Prime Minister has a hectic schedule ahead and has a number of meetings lined up for him. He would be meeting US Vice President Mike Pence; the first high level contact since the announcement of President Donald Trump's policy on Afghanistan.
He also has meetings scheduled with the King of Jordan and leaders of Turkey, Afghanistan, Sri Lanka, Iran, the United Kingdom and Nepal.
He will also meet UN Secretary-General Antonio Guterres, Chairman World Economic Forum Klaus Schwab and former US Secretary of State Henry Kissinger.
On the sidelines of the General Assembly Session, Prime Minister Abbasi will address the Council on Foreign Relations besides interacting with the US Pakistan Business Council.
He would also have extensive interaction with the international media.