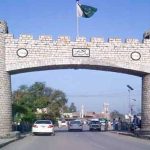 QUETTA: Prime Minister Shahid Khaqan Abbasi has advised Balochistan Chief Minister (CM) Sanaullah Zehri to step down ahead of the no-confidence motion, media outlets reported.
According to reports, the premier took the decision to control the political situation of the province after realising the situation following his visit to Quetta.
The reports added that the prime minister had also taken notice of the role of provincial party lawmakers in the episode.
The disgruntled lawmakers of Balochistan Assembly are all set to table a no-confidence motion against Zehri in the assembly today.
They claimed to have support of majority lawmakers of the assembly, leading to fears of the chief minister's removal from office.
Meanwhile, Jan Achakzai, the spokesperson of the chief minister while talking to some news channels has rejected the reports.
He said that Zehri would not resign and face the no-confidence motion head-on citing they held majority in the house.
Let it be known that Zehri had contacted the ousted prime minister and President Pakistan Muslim League-Nawaz (PML-N) Nawaz Sharif to bring the situation under control.
On the advice of Nawaz Sharif, Prime Minister Shahid Khaqan Abbasi paid a visit to Quetta to meet the displeased members of the assembly who refused to meet him.
It merits mention that PML-N has the government both in the federation and Balochistan.
Earlier, the opposition leader in the assembly and Jamiat Ulema-e-Islam-F's (JUI-F) member Maulana Abdul Wassay had expressed the hope their motion would succeed today.
He claimed to have the support of as many as 41 MPAs of the house.