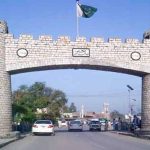 LAHORE: Minister for Railways Sheikh Rashid has claimed that the prime minister Imran Khan has asked him to join information ministry.
Talking to newsmen here on Saturday, the minister for Railways said that he held four meetings with the prime minister yesterday. He said that he told information minister to return to Pakistan who is in London on picnic for eight days.
When questioned what would be his response if the prime minister asked him to take charge of information ministry, he replied that he would say love you, thank you very much.
However, talking to a TV channel, he rejected reports about changes in information ministry and said that he was happy with the Railways ministry. He said that he would not become part of conspiracy against Fawad. He said that Fawad was his information minster and he is his brother. He confirmed that he telephoned Fawad to return to country.
Railways Minister Sheikh Rashid Ahmad said that efforts are being made to expedite work on ML-I project in collaboration with China to improve train journey.
He said new freight trains as well as more passenger trains will be launched in near future.
The Minister said that pharmacies will be opened at different railway stations to provide medicines to the sick passengers.
Meanwhile, Fawad Chaudhry has said that he was ready to vacate ministry for information for Sheikh Rashid. He said that he would accept the prime minister's decision. He said that he would continue to serve as member of the National Assembly.
Meanwhile, special assistant to prime minister Itikhar Durrani clarified that the prime minister was satisfied with the performance of Fawad Chaudhry. He said that he has no information about changes in the information ministry.