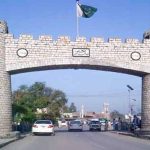 ISLAMABAD: Prime Minister (PM) Shahid Khaqan Abbasi has assured a Jirga of Mahsood Tribe that the killers of Naqeebullah Mashood would be brought to justice and punished as per law.
Talking to the delegation of Jirga, protesting outside National Press Club in Islamabad against the extrajudicial killing of Naqeebullah Mahsood, he said that it was not a case of provincial government but also the matter of the state.
He said all resources would be utilized to arrest Rao Anwar to fulfill the requirement of justice.
Appreciating the sacrifices of Tribal people during ongoing war on terror, the Prime Minister said that entire nation acknowledged and valued these unprecedented sacrifices.
He said the government would provide all possible assistance for rehabilitation of internally displaced persons of tribal areas.
Shahid Khaqan Abbasi said the people injured due to landmine explosions in tribal areas would be given appropriate compensation and the process of clearing landmines would be further paced up.
The prime minister said the government would establish a college in Waziristan after the name of Naqeebullah Mehsood.
The members of the Jirga thanked the prime minister and expressed full confidence in the leadership of the prime minister.
Governor Khyber Pakhtunkhawa Iqbal Zafar Jhagra, Minister of State for Capital and Administration Division Tariq Fazal Chaudhry, and Advisor to the PM on Political Affairs Amir Muqam were also present in the meeting.
Naqeebullah Mahsood – a youth from South Waziristan Agency (SWA) – was killed in a fake police encounter headed by former Senior Superintendent Police (SSP) Malir Rao Anwar in Karachi.