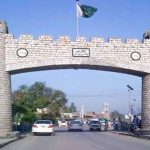 NEW YORK: Prime Minister Shahid Khaqan Abbasi held a meeting with United Nations (UN) Secretary General António Guterres on the eve of his address at 72nd session of the UN General Assembly in New York.
During his meeting with UN Secretary General, PM Shahid Khaqan Abbasi handed dossier on Indian ceasefire violation along LOC and Indian atrocities in IoK that leads to human rights violation.
He also demanded appointment of a special UN envoy for occupied Kashmir.
Both the leaders discussed prevailing situation in Afghanistan and affirm their all out support to bring peace in the region.
Guterres said that he holds Pakistan very close to his heart and that he has visited the country many times.
Acknowledging Pakistan's great efforts to curb the menace of terrorism, Guterres said Pakistan's sacrifices against terrorism are great, adding that he, himself, has witnessed its counter-terrorism operations and that he was a great admirer of the nation's efforts in this regard.
The Premier also called for an expansion of the United Nations Military Observer Group in India and Pakistan (UNMOGIP).
Abbasi will be addressing the 72nd session of the United Nations General Assembly in New York tonight, in what will be his debut into the highest international diplomacy after having taken over the office last month.
On Wednesday, Prime Minister Abbasi met with the US Vice President Mike Pence and said Pakistan was determined to eliminating terrorism.