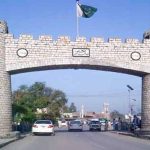 ISLAMABAD: The National Accountability Bureau's (NAB) action to serve legal notice on former prime minister Nawaz Sharif to explain the alleged money laundering of $ 4.9 billion to India has sparked serious concerns especially among the circles of Pakistan Muslim League-Nawaz (PML-N).
Prime Minister Shahid Khaqan Abbasi called for a special committee to be formed to investigate National Accountability Bureau's (NAB) allegations against former premier Nawaz Sharif.
The notice brought Prime Minister to the National Assembly where he said that a serious allegation has been leveled against the former prime minister.
Khaqan Abbasi said that Chairman NAB should be summoned to Parliament and reveal as to where did he get this information from, adding that a special committee should be formed to probe the matter.
"It is our right and obligation to bring such issues before the Parliament. The truth should be brought out before the people," he asserted.
Reacting to the notice, Punjab Chief Minister Shehbaz Sharif said that the entire nation was shocked over the notice whereas State Bank and World Bank have also denied the accusation.
Punjab CM urged Chairman NAB to take notice of the matter and mocked the anti-graft watch saying NAB is quite prominent in Punjab while it is nowhere to be seen in other provinces.
Regarding Chaudhry Nisar, he maintained, "When it comes to praising others, he acts like a miser. He possesses a significant position in the party. Nisar should wither away the differences while unifying with the party leadership. He is ranked among the senior leaders of PML-N."
Talking about the attack on interior minister Ahsan Iqbal, Punjab Chief Minister stressed that the incident has ridiculed Pakistan throughout the globe.