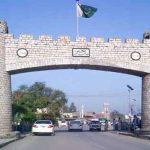 ISLAMABAD: Prime Minister Imran Khan has lauded the sacrifices of security agencies in fight against terrorism and improved security situation in the country.
Chairing the first-ever meeting of the Board of Governors of National Counter Terrorism Authority (NACTA) in Islamabad on Tuesday, the prime minister said that Pakistan has come a long way in its fight against terrorism and extremism.
The meeting was attended by chief ministers of four provinces, chief minister GB, prime minister AJK, federal ministers and other officials.
He said new ground realities call for revisiting the role of NACTA to make this body truly a proactive and sophisticated organization with a well-defined mandate.
The meeting, therefore, decided to constitute a committee for reviewing the role and functioning of the organization, which will submit its recommendations to the Prime Minister in a weeks' time.