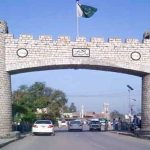 ISLAMABAD: Prime Minister Shehbaz Sharif has expressed anguish over countrywide power breakdown and said that the officials responsible for the electricity should be identified.
Chairing the federal cabinet meeting, the prime minister said that the common people and businessmen have suffered a lot due to disruption in electricity supply, which is unacceptable. He said that such incidents would not be tolerated in the future. He said that the causes of the power breakdown should also be identified and make sure that such situation would not happen in future.
The federal cabinet was informed that high level committee has started investigation into the power breakdown, which would present its report in the cabinet. The cabinet was told that on the special directives, the gas electricity plants started to fill the demand supply gap caused by breakdown could be completed. Two more days are required for making the nuclear power plants and coal power plants functional, the meeting was informed.
The federal cabinet was also informed that due to surge in import of petroleum products, the import bill is on the rise. In 2007, the oil import bill was 18 per cent of the total imports, which has reached to 29 per cent, the meeting was told. The cabinet was told that energy conservation was very important for taking out Pakistan of the financial pressure and saving foreign exchange reserves.
The prime minister directed that the caretaker governments of Punjab and Khyber Pakhtunkhwa should be taken into confidence over energy conservations so that implementation of the energy conservation plan should be implemented across the country.
The cabinet committee presented its report about new policy regarding Tosha Khana. Federal cabinet presented recommendations and suggestions regarding the new Tosha Khana policy  and directed the committee to amend the policy according to these suggestions and present it next cabinet meeting.
The cabinet also approved the decisions of the Economic Coordination Committee.