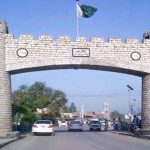 ISLAMABAD: Prime Minister Nawaz Sharif has instructed Minister for the Interior, Chaudhry Nisar Ali Khan on Monday to address reservations of the military in the revised notification that is to be issued over Dawn Leaks.
The federal minister called on the premier today to deliberate over the notification that is to be issued with regard to probe report of Dawn Leaks.
Sources privy to the Prime Minister House reported that the federal minister took PM Nawaz in confidence over the revised notification. Reportedly, the meeting also discussed security situation in the country.
The premier also conversed with Nisar over tensions along the border with Iran.
A journalist with an English daily in Pakistan published a reported in October last year claiming of a confrontation between the civil and military leadership during a meeting of the National Security Committee.
Both the government as well as the military denied the report and condemned 'baseless' reporting. However, the daily stood by the story and stated that it was published after verifying with more than one source.
A probe committee was formed by the government to identify those responsible in the issue, primarily the official who leaked the story to the press. Tariq Fatemi, former advisor to PM on foreign affairs was sacked earlier this month as result of the probe report and a notification was issued.
The military had rejected the notification terming it incomplete prompting the government to assure the army of reissuing a document.