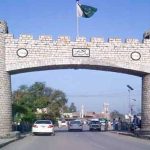 ISLAMABAD: Prime Minister Shahid Khaqan Abbasi on Wednesday directed the Pakistan Muslim League-Nawaz (PML-N) MNAs to ensure their presence when the budget will be tabled in the national assembly.
PM Abbasi chaired a parliamentary party meeting of the PML-N.
During the meeting, the PM took PML-N lawmakers into confidence over the developments after former prime minister Nawaz Sharif's statement on the Mumbai attacks, which was played up the Indian media stirring a controversy in the country.
Moreover, the PM also issued party guidelines during the meeting to ensure the presence of PML-N MNAs when the budget will be tabled in the assembly.
During the assembly session on Friday, the finance minister could not make his budget speech as the session was adjourned due to the low number of lawmakers.
PM took party members into confidence over the government's plan to table a constitutional amendment to merge the Federally Administered Tribal Areas with Khyber Pakhtunkhwa province.