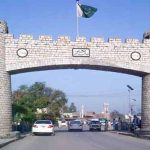 ISLAMABAD: Prime Minister Nasir-ul-Mulk has emphasized upon swift transition process in Federally Administered Tribal Areas (FATA) to provide a sense of security to the people of the tribal belt.
Chairing a meeting to review progress on implementation of FATA Reforms in Islamabad today, he stressed upon the need for addressing the important administrative, legal and financial issues in this regard.
The Prime Minister observed that the merger of FATA into Khyber Pakhtunkhwa is a landmark development promising positive impact on addressing the development lag and bringing a marked improvement in the lives of the tribal people.
The meeting was briefed about various administrative, legal and financial issues that needed immediate attention to ensure smooth transition of the merger process after the passage of 25th Constitutional Amendment.
It was informed that agencies and FRs have been re-designated as Districts and Sub Divisions of Khyber Pakhtunkhwa province and the posts of Political Agents and Assistant Political Agents have been re-designated as Deputy Commissioners and Assistant Commissioners.
The meeting was told that with the abolition of Agency Development Fund, collection of all taxes, levy and rahdaries has been stopped.
The meeting was informed that draft plans for extension of judiciary, policing, prosecution and prisons service in the Tribal Districts have also been prepared.
The meeting was informed about tax exemptions and other financial incentives that have been provided to the people of erstwhile FATA and PATA for the next five years.
A Committee was also constituted under the chairmanship of Law Minister to formulate a strategy for removing bottlenecks and making the merger process seamless.