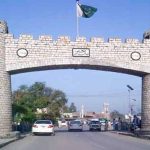 ISLAMABAD: Afghanistan President Dr Ashraf Ghani on Thursday held a one-on-one meeting with Pakistan Prime Minister Imran Khan and discussed regional security and geopolitics, particularly the Afghan peace process, were the focus of the meeting at the Prime Minister House in Islamabad.
The Afghan president arrived at the PM House after holding delegation-level talks with Foreign Minister Shah Mahmood Qureshi.
A contingent of the armed forces presented a guard of honour and national anthems of both countries were played as Ghani was received by PM Imran.
The premier introduced the Afghan president to members of his cabinet and other senior officials, while Ghani introduced Imran to members of the visiting delegation.
Earlier, in his meeting with FM Qureshi, President Ghani lauded Pakistan's efforts for peace in Afghanistan and the region.
The foreign minister conveyed Pakistan's commitment to continue playing its role for peace in Afghanistan with sincerity and an open heart.
"For decades now, the people of Afghanistan have suffered due to the security situation and instability prevalent in their country. That must end and Pakistan wants to play its due role in achieving that objective," FM Qureshi said.
"Pakistan has always emphasised the need for result-oriented talks. We firmly believe that is the only way to establish durable peace in Afghanistan."
The minister expressed confidence that the Afghan president's visit to Pakistan would bring the two countries closer and strengthen bilateral relations.
The two sides agreed to expedite implementation of the already decided strategy of fostering peace and brotherhood for the betterment and welfare of both countries.
They exchanged views on ways to enhance bilateral economy, trade and investment, and promote cooperation in communications, energy, culture and people-to-people contact.
President Ghani arrived in Pakistan on Thursday morning for a two-day visit on the invitation of PM Imran. Adviser to the Prime Minister on Commerce, Textiles, Industries Production and Investment Abdul Razak Dawood received him at Nur Khan airbase.
The Afghan president was accompanied by his Special Representative and Ambassador Extraordinaire to Pakistan Atif Mashal and a high-level delegation including ministers, advisers, senior officials and businessmen.
During the visit, President Ghani will also hold meetings with President Arif Alvi and Prime Minister Imran Khan.
Wide-ranging talks are expected during President Ghani's two-day official visit that is seen as part of the latest push to not only sort out differences with Pakistan on bilateral issues but also give new impetus to peace efforts.
This is the Afghan president's first visit to Islamabad in over three-and-half-years and comes at a time when peace talks between the United States and Afghan Taliban are believed to have entered a critical phase.
President Ghani will travel to Lahore on Thursday where he will participate in a business forum attended by business representatives from both the countries.
He will offer Friday prayers at the Badshahi Mosque and then depart from Pakistan the same evening.
This is President Ghani's third visit to Pakistan and follows the recently held first review session of the landmark Afghanistan-Pakistan Action Plan for Peace and Solidarity (APAPPS).
The Afghan president had earlier undertaken a bilateral visit to Pakistan in November 2014 and subsequently came to attend the Heart of Asia – Istanbul Process (HoA) Ministerial Conference in Islamabad in December 2015.
Relations between Pakistan and Afghanistan have remained tense for years largely because of deepening trust deficit between the two neighbours.
At the heart of the problem is suspicion in Kabul that Islamabad is still supporting the Afghan Taliban. Pakistan has its own list of grievances that include the Afghan government's lack of action against terrorist groups involved in cross-border attacks.