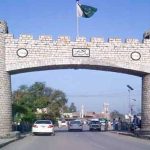 ISLAMABAD: Prime Minister Imran Khan is currently chairing an important meeting in the wake of India's violation of the Line of Control (LoC) earlier today (Tuesday).
The meeting is being attended by the top civil and military leadership, including Army Chief General Qamar Jawed Bajwa and ministers of defence and foreign affairs.
Foreign Minister Shah Mehmood Qureshi briefed the participants on the current situation in the aftermath of the LoC violation.
The military leadership apprised the meeting regarding their preparedness to deal with any situation, sources added. The meeting also discussed the future plan of action following the violation.
Ahead of PM Imran's meeting, Foreign Minister Shah Mehmood Qureshi chaired an emergency consultative meeting at the Foreign Office. Speaking to the media after the meeting, the foreign minister said Pakistan holds the right to self-defence and a befitting response to Indian aggression.
"We kept on telling the world that this could happen… they [India] carried out aggression against Pakistan today. India violated the LoC [today]. Pakistan holds the right to self-defence and a befitting response," Qureshi added.
Indian military aircraft violated the LoC as they "intruded" from the Muzaffarabad sector and were forced to return owing to the timely response of the Pakistan Air Force, Pakistan Army spokesperson Major General Asif Ghafoor said early Tuesday.
"Indian aircraft intrusion across LoC in Muzafarabad Sector within AJK was 3-4 miles. Under forced hasty withdrawal aircraft released payload which had free fall in open area. No infrastructure got hit, no casualties. Technical details and other important information to follow," Major General Ghafoor wrote on Twitter.
He also tweeted images of the "payload of hastily escaping Indian aircraft" which "fell in [the] open".
The incursion into the Pakistani air space follows a series of threats by Indian political and military leadership following the attack on an Indian Army convoy at Pulwama by a local youth, in reaction to the oppression unleashed by the occupational forces.