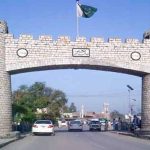 ISLAMABAD: Chief Minister Khyber Pakhtunkhwa Mahmood Khan called on Prime Minister Imran Khan in Islamabad on Friday and discussed the discord in the provincial cabinet and other matters pertaining to the province.
Earlier, on Thursday Pakistan Tehreek-e-Insaf (PTI) Member National Assembly (MNA) Usman Tarakai had said that Prime Minister Imran Khan want Khyber Pakhtunkhwa (KP) Chief Minister Mahmood Khan and Defence Minister Pervez Khattak to settle differences with ousted provincial ministers, Atif Khan and Shahram Khan Tarakai, through mutual understanding.
Usman Tarakai stressed that the discord between Atif Khan, Shahram Khan and Pervez Khattak should be resolved and a jirga will soon be held to settle the matter.
The PTI leader told that the premier has directed Speaker National Assembly Asad Qaiser to hold a sitting with Pervez Khattak, Mahmood Khan, Atif Khan and Shahram Khan Tarakai to negotiate the issue.
It is pertinent here to mention that Atif Khan and Shahram Khan Tarakai called on Imran Khan on Wednesday for the first time following their dismissal. Both leaders discussed about their differences and political issues with CM Mahmood Khan.
Sources said that Atif Khan and Shahram Tarakai apprised the premier of their reservations against the provincial CM, and also said that they have no objection on PM's decision. PM Imran, while stressing that it was an internal party matter, assured both axed ministers of his confidence in them.
For more latest news visit Khyber News website.