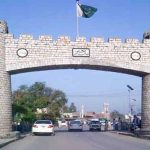 ISLAMABAD: Federal Minister for Science and Technology Fawad Chaudhary said PM Imran Khan is considering a complete closure of Air Space to India.
Fawad took to twitter to announce that a complete ban on use of Pakistan Land routes for Indian trade to Afghanistan was suggested in the meeting of Federal Cabinet held on Tuesday.
He said legal formalities for these decisions are under consideration. The firebrand politician said Indian PM Modi has started this and we will finish it.
Earlier, Special Assiatant to Prime Minister on Information and Broadcasting Firdous Ashiq Awan said PM Imran Khan has become voice of Kashmiris. She said PM is going to fight Kashmir case in United Nations and world must move towards do more on Kashmir crisis.
Briefing the media after cabinet meeting, she said PM took members in confidence on his address to nation on Kashmir situation.
She said Cabinet assured PM to convert Kashmir issue into a movement and put weight behind PM Imran's decision to celebrate Friday as Kashmir solidarity day.
SAPM said regional peace is in danger after India's unilateral decision on Occupied Kashmir. She said an effective message would be sent to India on Friday when nation will express solidarity with Kashmiris from 1200 hours to 1230 hours.