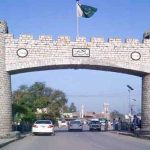 ISLAMABAD: Prime Minister Imran Khan has directed Foreign Minister Shah Mehmood Qureshi to consult the opposition once again on the National Action Plan (NAP).
According to reports, the premier met the foreign minister and directed him to remove the opposition's reservations regarding the meeting. The opposition members should be briefed wherever they please, the premier added according to reports.
Qureshi told that they are ready to brief the opposition members in the chambers of Leader of the Opposition in the National Assembly Shehbaz Sharif. "Along with parliamentary members, I am ready to brief the whole House," the foreign minister said according to reports.
The reports further quoted the premier as saying, Dialogue on the matter of military courts should also move forward.
PM Imran and Qureshi also held consultations over the appointment of vacant posts of members of the Election Commission of Pakistan (ECP) during the meeting, reports said.
The PM Office has written a letter to Shehbaz after Qureshi convinced him to contact the opposition leader regarding the matter, reports said.
The PM Office in its letter suggested names for the appointment of two members of ECP from Sindh and Balochistan, reports said. An earlier letter sent by the office of the foreign minister had been rejected by the opposition.