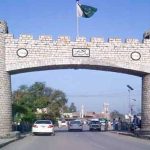 LAHORE: Prime Minister Imran Khan expressed satisfaction over the performance of Chief Minister Punjab Usman Buzdar on Saturday, amid speculation and unverified reports of the government thinking to replace the chief minister.
PM Imran met Buzdar today, where the two discussed the implementation of the smart lockdown strategy amid the coronavirus pandemic.
The prime minister appreciated the Punjab government's measures for curbing the disease and relief efforts for the public.
The meeting came in the backdrop of government officials dismissing news of Buzdar's removal on the basis of "below-par" performance.
Recently, Punjab Information Minister Fayyazul Hassan Chohan threw weight behind the CM Punjab, saying Buzdar has been performing his responsibilities with skills and ease.
Claiming that the international media has been commending Buzdar's performance, Chohan said: "Buzdar is the only chief minister who has come to the forefront to serve the people of the country."
Likewise, Information Minister Shibli Faraz had refuted reports of Chief Minister Punjab Uzman Buzdar being stripped from his position, saying that he is "going nowhere".