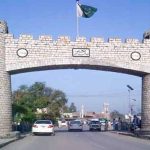 ISLAMABAD: Prime Minister Imran Khan has on Wednesday announced financial compensation for those who suffered losses during the religious parties' protest against the Supreme Court verdict acquitting Asia Bibi in blasphemy case.
According to the reports, the Prime Minister said that the federal government would compensate the affectees of protests and directed the government of Punjab to assess the losses incurred by the charged protestors.
Imran Khan also summoned a detailed report of the losses from the district administrations.
Let it be known that religious parties demonstrated violent protests against the Supreme Court verdict and resorted to vandalism in different parts of the country.