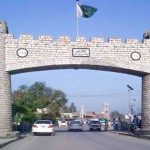 NAROWAL: Prime Minister Imran Khan has formally opened historic Kartarpur Corridor to facilitate entry of Sikh pilgrims from India into Gurdwara Darbar Sahib at Kartarpur in Narowal district of Pakistan.
Thousands of Sikhs from different parts of the world including India attended the ceremony.
Earlier, the Prime Minister visited different sections of Gurdawara Darbar Sahib and he was briefed about its renovation. This has now become the world's largest Sikh Gurdawara.
On arrival at Gurdwara Darbar Sahib, the Prime Minister shook hand with former Indian Prime Minister Manmohan Singh and exchanged views with him. He also met former Indian cricketer Navjot Singh Sidhu.
The Corridor has been opened on the 550th birth anniversary celebrations of Guru Nanak Dev Ji beginning from Tuesday.
Dubbed as 'Zero Point', the Corridor including a bridge stretches for one-kilometer over the Ravi River, flowing between the two countries.
The construction of Kartarpur Sahib Corridor and renovation of Gurdwara Darbar Sahib has been completed in record time.
The ground breaking ceremony of the corridor was held on 28th November last year.