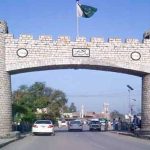 ISLAMABAD: Prime Minister Imran Khan has said that the government will not allow anyone to take the law into their hands as he issued directives to stop the long march planned by the proscribed Tehreek-e-Labbaik Pakistan (TLP). The decision was taken during a meeting of the Federal Cabinet.
During the meeting, the premier was briefed on the proscribed outfit's protest march, sources said, adding that the government has decided not to allow protesters to march beyond Jhelum.
It should be noted that earlier in the day, several police officers were injured in a clash with the workers of the proscribed party in Sadhoke.
Sources further added that the government has been adamant to not allow the long march "under any circumstances," and that "no talks will be held with the proscribed organisation."
"The government and the state are on one page regarding the protests," the premier said during the meeting, per sources, adding that the protesters will be "dealt with severely if they try to enter Islamabad."
Shedding light on the matter, Federal Minister for Information and Broadcasting Fawad Chaudhry said that the problems with the proscribed outfit should not be aggravated, adding that "this show should end now."
Speaking to the media in Islamabad before the cabinet meeting, Chaudhry had said that the long march going on GT Road should "end immediately."
On the other hand, PDM chief Maulana Fazlur Rehman said: "If Imran Khan's sit-in was legitimate when the PTI was in the Opposition, "then why isn't TLP's long march justified?"
He questioned that if protests against Nawaz Sharif was legitimate, then why is it illegal against Imran Khan.
"They are stopping the protestors from entering Islamabad; we demand that the general elections should be held."
Maulana Fazal ur Rehman went on to say that "it is the legal right of the TLP to register their protest, therefore, the matters should be resolved through legal means."