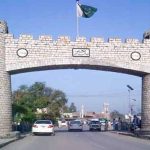 ISLAMABAD: Prime Minister Imran Khan took part in the campaign by planting a sapling in Haripur as part of the government's billion tree Tsunami drive.
He was accompained by KP Chief Minister Mahmood Khan.
One-day plantation campaign 'Plant for Pakistan' commenced on Sunday aiming to plant an approximate of 1.5 million trees around the country.
The 1.5 million saplings planted today will go under the belt of the 10 million trees plantation that is expected to unfold in the next five years of the Pakistan Terheek-e-Insaf government.
To rejuvenate the zest of nature and to encourage communities to save the planet, around 190 distribution points have been laid across throughout the country that will be handing out free saplings to the public.
PM Khan's adviser on Climate Change, Amin Aslam has stated the program initiated by ousted Prime Minister Nawaz Sharif, Green Pakistan Programme (GPP), will be assimilated into the billion tree Tsunami project.
"Now we have to extend this programme to the whole country," he added.