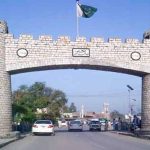 ABU DHABI: Prime Minister Imran Khan, who is in the United Arab Emirates (UAE) on an official visit, held a meeting with his counterpart Sheikh Mohammed bin Rashid Al Maktoum, read a statement issued by Pakistan Tehreek-e-Insaf.
Imran Khan met the ruler of the Emirate of Dubai for the first time after taking oath as the premier. Matters of bilateral interests and important international and regional issues came under discussion during the meeting.
The prime minister was invited to the UAE by Crown Prince of Abu Dhabi Sheikh Mohammed bin Zayed bin Sultan Al-Nahyan. He traveled there on Sunday on a one-day visit amid reports that the UAE is ready to extend financial assistance to Pakistan.
PM Khan was received by the crown prince at an official reception at the Presidential Palace in Abu Dhabi.
Following the reception, PM Khan and the Pakistani delegation — including Finance Minister Asad Umar, Foreign Minister Shah Mahmood Qureshi, and Army Chief Gen Qamar Javed Bajwa — met the Abu Dhabi crown prince and his delegation, and discussed bilateral, regional and global issues of mutual interest.
Expressing satisfaction at the positive trajectory of relations, the leaders of the two countries agreed to take immediate measures to further elevate their historic partnership. They resolved to strengthen trade and economic ties and eliminate all impediments to a seamless flow of bilateral trade and investment.
According to a joint statement issued after the meeting, the two sides agreed to chalk out a comprehensive roadmap to accelerate cooperation and partnership in areas encompassing trade, investment, economic development, energy, infrastructure, and agriculture, with a view to accrue early dividends from the economic partnership.
Acknowledging the contribution of Pakistani professionals as well as skilled and unskilled workers in the development of UAE, the two sides agreed to enhance cooperation on all labor-related issues.