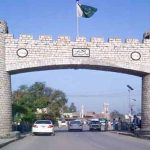 KARACHI: Federal Minister for Railways Sheikh Rasheed Ahmed on Monday strongly reacted to the formation of joint alliance of the opposition parties – yesterday during iftar dinner at Zardari House for launching protest movement against the Pakistan Tehreek-e-Insaf (PTI)-led federal government after eid – by stating that Prime Minister (PM) Imran Khan 'is not ready to give an NRO to plunderers of state's resources.
He spoke to the media in Karachi, and warned the opposition parties that they might lose likelihood of bails as well. Rasheed said all thieves have gathered under a roof to defend their corruption.
He expressed confidence that the country would recover from the current economic crisis under the leadership of PM Khan.
Referring to the crises, he contended that the crises would affect opposition more than the government.
Holding former rulers responsible for the inflation, the minister said the incumbent government was compelled to take hard decisions for the revival of the economy.
"Masses are suffering due to wrongdoings of the past regimes", Rasheed said, adding that he hoped the situation would improve in the next three to four months.
Yesterday, the opposition parties after the iftar dinner, hosted by Pakistan Peoples Party (PPP) Chairman Bilawal Bhutto Zardari in the federal capital, had announced that all political parties will launch protest movement against the government after eid.