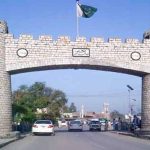 KARACHI: Prime Minister Imran Khan has urged people of the country to donate generously in the dam fund for the sake of future generations.
Addressing a fund-raising event in Karachi, he said we will have to construct dams to store water for agriculture, electricity and drinking purposes.
The Prime Minister said we need to raise thirty billion rupees annually and we will hopefully collect the required funds in five or seven years for construction of Diamer-Bhasha and Mohmand dams.
He said it is very unfortunate that political governments of the past preferred expensive electricity through imported fuel over affordable hydel power.
He said the past governments increased debt burden on Pakistan's economy and that is why we are unable to fund a dam with public funds.
Imran Khan said China has eighty four thousand dams, India five thousand while Pakistan has only two large dams.
He thanked the Chief Justice of Pakistan for initiating the campaign for raising funds for construction of dams to protect future of the coming generations.
Speaking about the problems of Karachi, the Prime Minister said the government will take every step for development of Karachi to regain its lost glory.
He, however, expressed concern over growing street crimes in the city, saying he is observing the reasons behind it.
The Prime Minister said Bengalis and Afghans born in Pakistan and residing here for decades will be issued passports and identity cards to make them Pakistan's citizens.
Imran Khan also announced to set-up industrial re-cycling and declination plants in Karachi.
He said local railway will be revived to provide affordable travel facilities to the people.
He said a master plan will be prepared for Karachi and forests will be grown on all empty places. He said federal government will come forward to help the Sindh Government if it fails to dispose of Karachi's waste in two months.