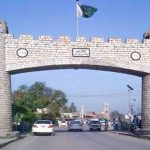 LAHORE: Prime Minister Imran Khan on Saturday laid the foundation of the shelter home project in Punjab province's Lahore city.
The project is aimed at housing a number of homeless people who usually spend nights on footpaths or other places in different areas of Lahore city.
Addressing the ceremony, the PM said that his party's aim is to turn Pakistan into a welfare state and the target cannot be achieved without helping the poor segments of the society.
"Should we allow our people to live on footpaths. Our government is bringing a first of its kind poverty alleviation package within a week or two in which all relevant departments will work under a single setup to eliminate poverty," said Imran Khan.
The PM maintained that on his recent visit to China, he expressed his desire to learn from the neighbouring country about their poverty alleviation measures and will implement a similar plan in Pakistan.
"If you read history, it was us, the Muslims who helped homeless people, passengers and provided them shelter and food, now if you go to the Scandinavian countries, you'll hardly find a homeless person, they have learnt from us and now its our time to learn from them," said Imran Khan.
The PM reiterated his resolve to turn Pakistan into a true Islamic welfare state by taking such measures.
"This sort of projects brings one great joy for we know it will eventually help the poor; governments come and go but such great deeds stay there," said Imran Khan.
Answering a question about the criteria for entry into such shelter homes, the PM said that a board will be formed to decide and implement the criteria.
"If you ask me, I will say everyone who comes (to the shelter home), should be allowed to stay there," said the PM.
According to Radio Pakistan, the shelter building will be based upon a "state of the art" design with simplicity in order to improve its utility, besides availability of separate facilities to ensure best usage of the place.
It will also include construction of multi-purpose halls for imparting training and holding of public awareness programmes on vital social objectives.