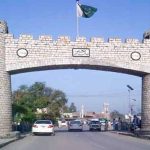 ISLAMABAD: Foreign Minister Shah Mehmood Qureshi on Thursday said that Prime Minister Imran Khan is ready to telephone Indian Premier Narendra Modi to promote peace.
The minister maintained that we should take US President Donald Trump's remarks on escalating tensions between Paksitan and India positively.
The FM said that Pakistan is ready to hand over Indian pilot Wing Commander Abhinandan, who was captured by the Pakistan Army on Wednesday, if it leads to de-escalation. We want peace in the region, he continued.
Qureshid said that arrested pilot is safe as Pakistan Army is responsible and respects military traditions. Indian pilot is being given every kind of facility, he told.
Earlier, Prime Minister Imran Khan in his address to the nation reiterated his dialogue offer to India for resolving issues between the two nations.
"I wanted to take the nation into confidence over the prevailing situation in the country," he remarked after Pakistan Air Force (PAF) shot down two Indian Air Force (IAF) fighter jets for violating the Pakistani airspace again.
"We offered India that Pakistan will conduct investigation into the Pulwama attack if actionable evidence is provided to us. We were ready for full cooperation," reminded the premier.
"We understand the grief caused to families when they lose their dear ones. I have visited hospitals and seen the pain of people affected by violence. We faced more than 70,000 casualties during the last decade and know the feelings of the bereaved families. That is why I offered investigation into the incident," he explained.
Tensions between Pakistan and India have been escalated since a suicide attack in occupied Kashmir killed 44 Central Reserve Police Force (CRPF) soldiers.
The attack saw explosives packed inside a van rip through buses in a convoy of 78 vehicles carrying some 2,500 members of the paramilitary CRPF.