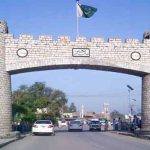 ISLAMABAD: Pakistan Tehreek-e-Insaf (PTI) leader and close aide of Prime Minister Imran Khan, Jahangir Tareen has been removed as Chairman Agricultural Task Force.
The Agricultural Task Force had been formed on the directions of PM Imran Khan.
On the other hand, the prime minister s close aide denied the news in a twitter post, saying he was never chairman of any task force.
Tareen also asked if anyone can anyone show his a notification with him as chairman.
Meanwhile, teams of Federal Investigation Agency (FIA) carried out raids on different sugar mills after expanding its investigation to confirm whether sugar stocks in the country were exported or imported.
The teams of the FIA raided seized records during the raids which were forwarded for its forensic investigation.
Talking informally to media persons in Lahore on Monday, Pakistan Tehreek-e-Insaf (PTI) leader and close aide of Prime Minister Imran Khan, Jahangir Tareen declared the FIA's investigation report as political and termed it a personal attacks against him.
He alleged that the Prime Minister's Principal Secretary Azam Khan is behind the investigation report, adding that an incomplete report was released just to make him a target.
The PTI leader said Azam Khan is making his own decisions by setting up a hierarchy around PM Imran, adding that he is himself making the schedule of meeting the prime minister.
He said that employees had been summoned from their houses during coronavirus lockdown for investigation. The politician announced that he will challenge the decision if the commission declared him responsible.
Tareen further claimed that the principal secretary is constantly harming the premier, adding that he is in contact with Imran Khan and will stand by his side.
To a question regarding threating Federal Minister for Railway, the prime minister's close aide said that he had never threatened Sheikh Rasheed, adding that the minister was misinterpreting.
Earlier today, Punjab Food Minister Samiullah Chaudhary had tendered resignation from his post.
Samiullah Chaudhry resigned as the provincial food minister after meeting Punjab Chief Minister Sardar Usman Buzdar.
The provincial minister submitted resignation after he was accused of not bringing reforms in the food department and failure to regulate the hike in prices of wheat and flour.
He said that he is voluntarily presenting himself for accountability.
Chaudhry said he has been illegally involved in the scandal, adding that all allegations against him are baseless.