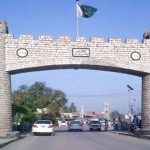 KARACHI: Prime Minister Imran Khan Friday said that his party Pakistan Tehreek-e-Insaf (PTI) is against the formation of another province in Sindh.
The prime minister said so during his meeting with members of coalition parties at Governor House, Karachi.
The participants of the meeting included Grand Democratic Alliance's Arbab Ghulam Rahim, Nand Kumar, Nusrat Sehr Abbasi and Sadruddin Shah Rashdi.
Opposition Leader in Sindh Assembly Firdous Shamim Naqvi, Khurram Sher Zaman, Haleem Adil Sheikh and Faisal Vawda were also present at the meeting.
The meeting reviewed political situation of Sindh, ongoing projects of the federal government and coalition affairs.
Maintaining that the PTI is against another province in Sindh, PM Khan said there would be no need for division of the province after a new local body system is introduced here by the ruling PTI.
The prime minister arrived in Karachi Friday afternoon on a daylong visit to the commercial hub of the country.
He was accompanied by Federal Minister for Shipping and Marine Affairs Syed Ali Zaidi, PM's Advisor for Trade Abdul Razzaq Dawood, and Special Assistant to the Prime Minister Naeem ul Haque.
The prime minister is scheduled to chair a meeting on the Naya Pakistan Housing Scheme in Sindh during his visit.
He is also expected to attend as guest of honor a fundraising Iftar-dinner organised by the local chapter of the Shaukat Khanum Memorial Cancer Hospital.