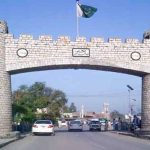 ISLAMABAD: Prime Minister Imran Khan has set up a National Development Council (NDC) and announced its members and the head in a notification issued on June 13.
The notification, which lists the chairperson, members, and the NDC's secretary, states the following as its terms of reference:
The NDC will "set policies and strategies for development; formulate and tailor policies to achieve accelerated economic growth; approve long term planning for national and regional connectivity, and provide guidelines for regional cooperation."
Chaired by PM Khan, the NDC will have the following as its members:
Federal Minister for Foreign Affairs
Federal Minister for Finance/Adviser to the Prime Minister on Finance
Federal Minister for Planning, Development & Reform
Federal Minister for Commerce/Adviser to the Prime Minister on Commerce, Industries & Production and Investment
Chief of Army Staff
Secretary to the Prime Minister
Secretary, Foreign Affairs Division
Secretary, Finance Division
Secretary, Planning, Development & Reforms Division
The provincial chief ministers, Azad Jammu and Kashmir Prime Minister, and the chief minister of Gilgit-Baltistan will be conditional members, "on invitation" as will any additional minister or head of a strategic body.
The additional secretary at the Prime Minister's Office will be the secretary of the council.