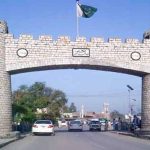 ISLAMABAD: Pakistan Muslim League-Nawaz (PML-N) senior leader Shahid Khaqan Abbasi on Monday has said that the petroleum crisis in the country is due to the incumbent government of Pakistan Tehreek-e-Insaf (PTI).
While addressing a press conference, the PML-N leader claimed that the federation has taken advantage of the petrol crisis.
Prime Minister Imran Khan should leave the government as he has failed to smoothly run the country, he suggested.
Abbasi further said that those who worked for the development of the country have been declared culprits in fake corruption cases. PML-N had ensured electricity at cheap rates in its tenure to provide relief to the nation, he added.
The former PM has also urged everyone to work together for Pakistan's best interests.
Earlier, Shahid Khaqan Abbasi said that PM Imran and his government have lost all faith and trust of its allies.
"Where is the government taking the country? The economy is all but destroyed, commissions and committees have been ineffective in bringing sugar prices below Rs 90 per kg and petrol price increased by a record 34%," he added.