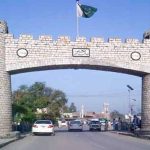 ISLAMABAD: Prime Minister Imran Khan has said that the lockdown is not a cure for novel Coronavirus pandemic but a temporary measure.
The prime minister presided over a high-level meeting in which the supply of medical equipment to hospitals and other issues was discussed.
Speaking on the occasion, Imran Khan said that the threat to our population is far greater from hunger and poverty than the threat from lockdown.
"We need to create a balance between precautionary measures to prevent the pandemic and hunger," he said.
The premier said lockdown is an interim step and it is not a panacea for coronavirus, adding that we have to make our decisions based on ground reality and situation of the people.
He emphasized on implementation of SOPs regarding control and preventive measures against coronavirus to protect lives of people.
Special Assistant on Health Dr. Zafar Mirza gave a detailed briefing to the meeting on statistics of coronavirus patients in the country, confirmed cases, geographical spread, number of tests and proportional increase in cases.
The demands of automobile sector especially motorcycle manufacturers and shopping malls association were also presented to the Prime Minister.
The Prime Minister reiterated that policy of the government regarding lockdown is very clear. He said all those sectors will be facilitated without putting the lives of people into danger that are associated with people from poor and white collar class.