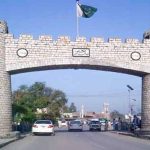 ISLAMABAD: Prime Minister Imran Khan will leave Islamabad for a two-day visit to Balochistan and Sindh today.
The federal cabinet members will accompany the prime minister on his visit of two provinces. Army Chief General Qamar Javed Bajwa will be also with Prime Minister during Balochistan tour.
The Prime Minister will meet the Chief Minister, Governor and members of the Provincial Cabinet in Quetta. He will also preside over a high level meeting to review law and order situation in the province. Army Chief, Commander Southern Command and security officials are also expected to attend the meeting.
Prime Minister Imran Khan will also be briefed on progress on China-Pakistan Economic Corridor (CPEC) and other ongoing development projects in the province.
From Quetta, the Prime Minister will reach Gwadar where he will lay the foundation stone of the Gwadar International Airport.
PM Imran will reach Karachi in the evening where he will chair the meeting of Karachi Transfermation Committee. He will be briefed on the ongoing projects undertaken by the federal government. The Prime Minister will also meet traders and businessmen during his stay in Karachi.
The Prime Minister will leave for Ghotki from Karachi on Saturday morning where he will meet the leaders of coalition parties.