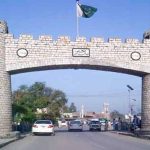 SWABI: Defence Minister Pervez Khattak said strict but beneficial decisions have been taken by Prime minister Imran Khan. He said ultimate beneficiary will be Pakistani masses.
Talking to masses at public procession in Swabi, he said opposition is not doing any constructive criticism. It gives no suggestion at all.
He further said had strict decisions not being taken the government could have collapsed and the economy could have ruined.
Appreciating the efforts of CM KP Mehmood Khan he said KP government is doing a lot in order to serve masses. He vowed to distribute health cards to every person in province.