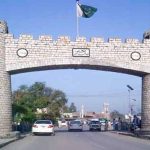 WASHINGTON: Pakistan's Ambassador to the United States Dr Asad Majeed Khan on Monday said that Prime Minister Imran Khan and President Trump are on the 'same page' for the peace and stability in the region.
"Pakistan wants to help the United States in solving Afghan issue," he said while expressing his views in a ceremony in Washington.
Terming the US as an ally of Pakistan, he added relations between both the countries have never been easy.
The ambassador relayed that when it comes to enduring peace and stability in the region, PM Khan and US President Donald Trump are on the same page.
It may be recalled that US President Donald Trump on Friday had said that the bilateral relations between the US and Pakistan have become "much better" in short span of time.
The US president, speaking at a White House event on trade negotiations with China, noted that relations had improved over the "last short period of time" and added that the United States may set up some meetings with Pakistan.
US envoys say Pakistan has an important role to play in the Afghan peace talks.