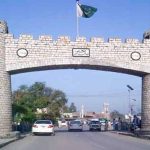 ISLAMABAD: Prime Minister Imran Khan on Thursday called Crown Prince of Abu Dhabi His Highness Sheikh Mohamed bin Zayed to review the prospects of strengthening ties between both states.
The two leaders shared views about the latest regional and international developments.
They also agreed that the two nations must improve efforts to strengthen security and stability within the region and internationally.
Foreign Minister Shah Mahmood Qureshi briefed his South Korean counterpart to discuss the grave situation in Indian-occupied Kashmir (IoK).
Kang Kyung-wha expressed her concern about the human rights violation in the occupied region.
She added that her country is closely watching the developments in IoK.
FM Qureshi stated that the international community must play an effective role to stop the Indian armed forces.
He said media communication has been completely banned in the occupied region in an attempt by the Indian occupying forces to hide the brutalities from the world.
He apprised her about the problems Kashmiris are currently facing because of the curfew – including a shortage of medicine and food.
FM Qureshi mentioned that Indian forces barge into the homes of innocent Kashmiris and detaining children.
The foreign minister also telephoned Saudi Foreign Minister Dr Ibrahim bin Abdulaziz Al Assaf to brief him about the atrocities in IoK.
He apprised the foreign minister about the curfew in the occupied region, adding that all communication has been blocked for the past 26 days.
FM Qureshi told his counterpart about the grievances faced by the Kashmiris.
He reiterated the importance of the international community in playing its part to stop the barbaric activities of the Indian government.
Qureshi informed his Saudi counterpart about all his efforts to involve the international community – including contact with various foreign ministers, letter to the UN Secretary General, President UN Security Council and Secretary General OIC.
Both the ministers agreed to increase their efforts to establish peace in the region.