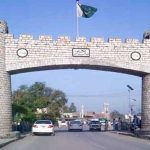 ISLAMABAD: Prime Minister Shahid Khaqan Abbasi Friday inaugurated one of the largest oil and gas reserves from Jhandial well, which according to preliminary estimates indicates recoverable reserves of at least 292 billion standard cubic feet of gas and 23 million barrels of oil.
Chief Minister Punjab Shahbaz Sharif, Minister for Defence Khurrum Dastgir Khan, Minister for Parliamentary Affairs Sheikh Aftab and Minister of State for Petroleum Jam Kamal were present during the occasion.
It is the first major discovery by the Pakistan Oil fields Limited (POL) in the last five years. Jhandial well is located in Ikhlas Block in Northern Potohar, about 83 kilometers Southwest of Islamabad in District Attock. The Jhandial discovery is expected to contribute to the country's energy sustainability while also having a positive impact on the future of exploratory efforts in the block and surrounding areas. The well will be connected to the production line in around a fortnight and will gradually attain full potential.
The POL holds 80% share in the block whereas the Attock Oil Company (AOC) has a 20% share. The experts say the block from where the discovery has been made was located in a prospective but geologically complex area surrounded by a number of significant oil discoveries. The drilling of the deep exploratory well Jhandial-1 was proposed after acquisition and interpretation of 3D seismic data.
The Prime Minister was briefed about the new discovery. He was informed that the well was drilled to a total depth of 18,497 feet to test the Eocene and Paleocene carbonate reservoirs. During tests, significant amount of hydrocarbons (oil and gas) were discovered with flow rates of 21 million cubic feet of gas and 2,520 barrels of oil per day at choke size of 40/64 at well head flowing pressure of 3,768 psi.
The American Petroleum Institute (API) gravity of the oil is around 40ø and the gas has a rich calorific value of 1,161 British Thermal Units per standard cubic feet of gas. The gas composition analysis indicates that it contains about 86% methane, 7.2% ethane and 2.9% propane. The LPG content of the gas is about 2.5 metric tons per million cubic feet of gas.