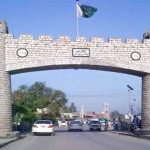 ISLAMABAD:Prime Minister Shahid Khaqan Abbasi Thursday directed Ministry of Commerce to continue engaging the private sector in finding solutions to the issues such as taxation and provision of level-playing field to the local companies involved in e-commerce transactions.
He said this while chairing a briefing on e-commerce policy framework which was being formulated to promote and facilitate e-commerce transactions at PM Office.
The prime minister further directed that the policy framework to be finalized should aim at providing maximum facilitation and promoting ease of doing business through e-commerce facility.
The briefing was attended by Minister for Commerce and Textile Muhammad Pervaiz Malik, Minister for IT Anusha Rehman, Minister of State for Finance Rana Muhammad Afzal, State Bank governor, FBR chairman and senior government officials. Representatives of private sector involved in e-commerce business were also present during the meeting.
The commerce secretary gave a detailed presentation on the proposed policy framework which was being formulated in consultation with the stakeholders and encompasses various areas including consumer protection, dispute resolution mechanism, taxation, payment gateway and ensuring privacy and data protection of the consumers.
The prime minister appreciated the efforts of Ministry of Commerce, IT and all other departments concerned working on putting in place a robust mechanism to facilitate e-commerce in the country.
He observed that promotion of e-commerce promised huge benefits for the economy by not only serving as a force multiplier in further growth of economy but also towards generation of jobs, broadening of market access, documentation of the economy and promotion of businesses including the small businesses across the country.