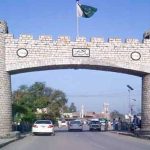 LAHORE: Caretaker Punjab Chief Minister Hassan Askari met with Caretaker Prime Minister Justice Retired Nasirul Mulk in Lahore on Thursday.
During the meeting, they reaffirmed their commitment to ensure holding of transparent, fair and free general elections 2018.
Speaking on this occasion, the caretaker Chief Minister said that all arrangements are being finalized for holding the general elections in a peaceful atmosphere in Punjab.