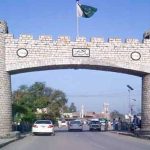 ISLAMABAD: Chief of Army Staff, General Raheel Shareef called on Prime Minister Nawaz Sharif before the meeting of National Security Committee (NSC) on Tuesday and apprised him of the situiaon on borders, specially on the Line of Control (LoC).
The prime minister has also convened an inter provincial National Action Plan (NAP) meeting to be attended by all the chief ministers and military top brass to discuss progress on various points of the anti-terror plan.
The NSC will dicsuss Kashmir issue and Indian aggression on the LoC. On Monday, a meeting of all the parliamentary parties was held at the PM House which fully backed the government on its stance on Kashmir.
Today's NSC meet will be attended by all the provincial chief ministers and ministers of finance, defence, interior and information, a PM's Office statement said.
The PM's Adviser on Foreign Affairs, National Security Adviser, the Chairman Joint Chiefs of Staff Committee, Services Chiefs, Director General ISI, Director General Military Operations and foreign secretary will also be present.