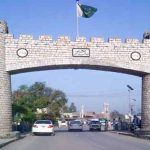 LAHORE: Chairman Pakistan Tehreek-i-Insaf's (PTI) Imran Khan has demanded the resignation of Prime Minister Nawaz Sharif and Punjab Chief Minister Shahbaz Sharif.
While addressing at Bhatti Gate, he said that they have given between 48-72 hours to tender their resignation. He said that Lahore was the political heart of the country and the rally showed that the people wanted change in their country.
Earlier he said that his party's Ehtesab (accountability) March was to mount pressure on the country's institutions to support it uncover Nawaz Sharif's corruption in the country.
Speaking to the participants of the rally on his symbolic container, Khan said, "PTI was seeking answers from Prime Minister Nawaz Sharif over his alleged corruption and Panama Leaks Scandal for the last five months, but he could not satisfy us and the opposition."
He claimed that FBR "under public pressure" issued notices to Sharif family but the party's accountability march will not end unless they are punished.
In an earlier speech, Khan had asked FBR and NAB to take notice of the Panama papers and take action against the ruling PML-N.
A close ally of Imran Khan, Awami Muslim League (AML) chief Sheikh Rasheed led his torch bearers' rally to Liaquat Bagh after a power break down in his Rawalpindi residence.
Rasheed claimed that the city administration has warned him about threats to his life but he will lead the rally anyway.
He maintained that electricity and cable television are put off in the city, forcing him to lead a torch bearer rally to support Imran Khan.
In a painful accident, a private news channel's news anchor fell from a crane during the coverage and was taken to the hospital.
The anchor Irza Khan was taken to a nearby hospital by Rescue 1122 officials.
In his inaugural speech, the PTI chief urged the whole country to come out and seek answers from the Sharif's family.
Khan said Nawaz Sharif was ready put the future of Pakistan at stake for his vested interest.
He insisted that if Nawaz Sharif managed to escape the Panama Leaks probe, this time, he would ruin the remaining institutions of the country as well.
Chairman PTI said Nawaz Sharif's objective was not to serve Pakistan but to make illegal money.
Pakistan Tehreek-i-Insaf's (PTI) launched its Ehtesab (accountability) March in the walled city on Saturday.
Strict security measures were taken to protect the march with at least 5,000 policemen deployed at a nine-kilometre-long route of the rally.
Moreover, members of Insaf Tiger Force, Insaf Youth Wing and Insaf Student Federation would also ensure that no untoward incident happens during the march today.