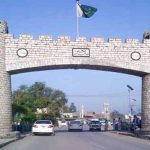 ISLAMABAD: Prime Minister Nawaz Sharif has inaugurated Rawalpindi- Islamabad Metro Bus project at a ceremony in Islamabad today.
A dedicated signal-free track of twenty-three kilometer has been constructed between Islamabad Secretariat to Saddar Rawalpindi with twenty-four stations equipped with modern facilities to facilitate the commuters of twin cities.
Ticketing booths, escalators, and overhead bridges have been constructed at the stations for the convenience of the commuters.
The project has been completed at a cost of over forty-four billion rupees, which was shared by the federal and Punjab government.
Initially sixty buses will play on the route and around one hundred and fifty thousand commuters will benefit from this service daily.