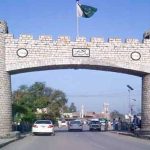 PESHAWAR: Chairman of Pakistan Tehreek-e-Insaf (PTI), Imran Khan has declared Prime Minister (PM) Nawaz Sharif king of corruption.
Imran Khan addressed a rally in Peshawar's Mattani area and urged the public to flock Islamabad for the sit-in that is being purported by the party as the decisive move in the history of Pakistan with alleged corrupt leaders.
A true leader turns the entire nation into masses of honest and sincere people, he said. Khan said that PTI and the people of the country would face corrupt leaders and take back charge for good.
No Muslim would ever permit a corrupt person to rule the nation that he belongs to, PTI chief said.
While referring to 'Islamabad shut down' call, Khan said that November 2 would decide the 'future' of Pakistan.
Khan said that at one side, it was Nawaz Sharif and his accomplices, Asif Ali Zardari, chief of Jamiat Ulema-e-Islam-Fazl (JUI-F), Maulana Fazlur Rehman and leader of Awami National Party (ANP) Asfandyar Wali while on the other side, it was the entire nation.