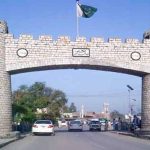 ISLAMABAD: Prime Minister Muhammad Nawaz Sharif has said that the government is focused on the agenda of peace and economic prosperity in the country.
He was talking to former Governor Khyber Pakhtunkhwa Mehtab Ahmad Khan Abbasi who called on him in Islamabad this evening.
The Prime Minister said that the development of the basic infrastructure and self sufficiency in the energy sector is also among the top priorities of the government.
He said the government is committed to provide equal development opportunities to all the federating units.
During the meeting the development projects in Khyber Pakhtunkhwa and other mega projects came under discussion.