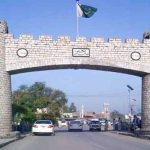 LAHORE: Pakistan Tehreek-e-Insaf (PTI) chairman Imran Khan on Saturday said that Prime Minister Nawaz Sharif was ruining Pakistan just for saving his own skin.
Imran was accompanied by senior party leaders including Shah Mehmood Qureshi, Chaudhry Muhammad Sarwar, Mian Mehmood ur-Rasheed, Jahangir Tareen and others.
Addressing the party workers and supporters at Shahdra Imran Khan said that this protest is important for the future of Pakistan. "Rulers are destroying the country," says Imran Khan. He said that country would bankrupt if prime minister steals peoples money. "Prime minister is accountable in a democracy," said Khan.
Speaking to the participants of rally PTI Chairman Imran Khan said that corrupt leaders would corrupt the country s institutions. Imran Khan while accusing FBR chairman said that he sent millions to Dubai illegaly. He said, "we are not pressurising Nawaz Sharif, we are pressurising state institutions to hold Nawaz Sharif accountable".
The PTI rally also known as Ehtesab march started from Shahdara and will reach Charing Cross in the evening where participants will be addressed by party chief, Imran Khan.