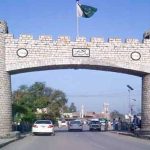 ISLAMABAD: Opposition Leader in the National Assembly Syed Khurshid Shah on Monday said it would boost the morale of Army if Prime Minister Nawaz Sharif appoints senior most general as next Army Chief.
In a statement , Shah said that he had already stated that General Raheel Sahrif would not take extension in services.
Paying huge tributes to the services of outgoing Army Chief General Raheel Sharif, Shah said that General Sharif's role as Army Chief had been exemplary and historic.
Shah added that General Raheel had been a non-controversial chief of the army.
He said that the General faced many challenges during his tenure as COAS and was bidding farewell to Army in a graceful manner due to his non-controversial and apolitical role.