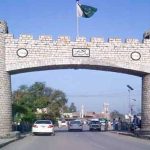 ISLAMABAD: Prime Minister Nawaz Sharif will visit Gwadar today (Tuesday) to inaugurate the Global Conference.
According to details, this will not be the only place where Nawaz Sharif will visit, as the premier will also go to Turbat, Pishin and Quetta. Chief Minister of Balochistan, Sanaullah Zehri, will host Prime Minister Nawaz Sharif for dinner at Pishin.
Nawaz Sharif is expected to visit Turbat, where he will inaugurate Hoshab Road.
Gwadar is an extremely crucial city which has a vital role to play in the China-Pakistan Economic Project, an economic corridor which links China's Xinjiang province to the port city in Balochistan.
Chinese goods will be shipped from Gwadar and exported to all parts of the world from the deep sea port.