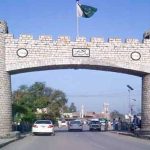 ISLAMABAD: Prime Minister Nawaz Sharif visit will go to Karachi on a daylong visit on Tuesday.
According to Prime Minister House spokesman, the Prime Minister during his one daylong visit of the provincial capital will examine the ongoing multinational naval exercise, "Aman 2017".
He added that the Prime Minister will also chair a high level meeting at Governor House Karachi.The meeting will be attended among others by Governor and Chief Minister of the province and other high officials.
During the meeting the Prime Minister will be briefed over the ongoing road and water supply schemes.