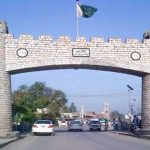 ISLAMABAD: Prime Minister Nawaz Sharif on Saturday said he is trying to revive peace talks with the Taliban after the latest round was derailed by untimely news of the death of leader Mullah Omar.
Islamabad organised the first set of direct peace talks between the Taliban and the Afghan government in July, but another round was abandoned after the announcement of the cleric's death.
Since then the insurgents have unleashed a wave of violence, including seizing the northern Afghan provincial capital Kunduz in their most spectacular victory since being toppled from power in 2001.
"We are now trying to resume the (peace) process and pray to God to crown our efforts with success," Sharif said in televised remarks to the media from the eastern city of Lahore.
"The news of Mullah Omar should not have been broken just before the start of the second round of talks."
Mullah Akhtar Mansour has now become the new head of the insurgent movement, but several members of its top leadership including his predecessor's family initially rejected him.
The rumours of Mullah Omar's ill-health and even demise had regularly surfaced in the past, but Sharif questioned the timing of the announcement in July so close to talks aimed at brokering a ceasefire.
"I don't know who broke this news and why it was done so just two days before the start of the second round, is still a mystery," he said. …Agencies